Additional Benefits Our Hosting Plan Includes

Reliable Cloud Hosting: First, your site needs a place to live - and our super reliable, secure, and fast cloud hosting ensures your site will always be live and accessible from anywhere, all the time. 

Fully-Responsive Design: We create a fully-responsive website that's optimized for all screen sizes and devices, including smartphones and tablets.

Website Security (SSL): Our package includes an SSL certificate to encrypt connections, protect your visitors, and improve your search engine rankings.

Real-Time Traffic Stats: You'll have access to real-time traffic stats, so you can see how many people are coming to your site, how long they stay, which pages are most popular, and a lot more, so you can stay on top of how visitors are utilizing your site, enabling you to make smart business decisions with that data. 

Perpetual Compatibility: With our service, your site will always be compatible with the latest browsers, operating systems, and devices, saving you from reinvesting in your site's infrastructure.

Done-For-You Updates: We take care of all content updates, ensuring your site stays fresh and relevant at all times. Just email, text, or call us with any changes you need.

Search Engine Optimization: We use the latest technology and best practices to help your site rank high and attract more visitors on search engines like Google, Yahoo, and Bing.
 
Standard with all of our websites.

See the difference: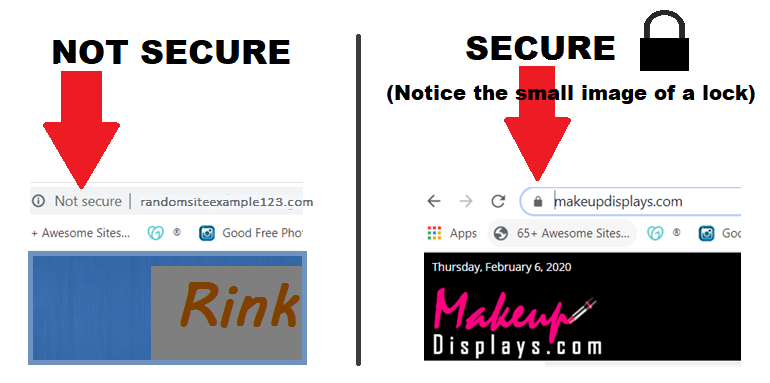 Here is why we always include premium SSL SECURE hosting with all of our websites.

"Not Secure." = Not good!

When visitors type a URL or follow a link to a website that doesn't have an SSL, that site is immediately flagged as "Not Secure." And that scares potential customers away. But when you have an SSL certificate, any potential "Not Secure" warning goes away – for as long as you have the SSL certificate. And that's a good thing.

Having SSL Secure hosting on your website will make your site as HTTPS (instead of just HTTP), which will save you from these harsh warnings from google.

Having an SSL certificate on your site shows your website's visitors that your site is verified and that it's safe from hackers.

The meaning of SSL 

SSL stands for "Secure Sockets Layer". It is designed to keep communication safe over the Internet.

Increased SEO ranking

Having an SSL certificate on your site improves your SEO rankings by helping the search engine "crawlers" determine the quality of a website by signaling an intent to provide visitors a safer experience.

It is important to have SSL Secure hosting for your website, as it helps in boosting the SEO ranking of the website. Search engines heavily favor SSL Secure websites and will push them higher in search results. That will also vastly increase the likelihood customers will find you.

Every day, Google blacklists over 10,000 websites, removing them from search results and removing the majority of visitors that go to those websites. Many of these websites lack the SSL certificate. Google has confirmed that a secure website with an SSL certificate will have an advantage over other websites that are not as secure and encrypted.

Customers will trust you

That's important because trust is the cornerstone of SSL protocol – indicative of strict validation guidelines. Our SSL certificates feature the world's best encryption to protect sensitive data.

Safe mobile and online payment systems.

To do that safely and securely you'll need an SSL certificate, the industry standard for end-to-end encryption protocol to thwart hackers from getting to your sensitive data. To comply with the Payments Card Industry (PCI) compliance norms, an online business must have an SSL certificate from a trusted source. Give customers the payment options they prefer – and keep them shopping through checkout.